Muscle Rub
Regular price
Sale price
$28.00 USD
Unit price
per
Poplar Buds, Goldenrod Flowers, Ginger Root, Sunflower Seed Oil, Beeswax
A balm to massage into your skin after a long day
As always, all the herbs in this balm are organic and sourced as locally as possible. I infused them at a 1:4 ratio in local, organic sunflower seed oil (the herbs here are always organic, so that goes without saying) using the power of time, maceration, and heat. Local beeswax solidifies the salve.

 This balm is for sore muscles. As I make my way through my early 30s and continue to use my body to build gardens, run through the woods for hours, and sit at my computer typing away - it becomes more clear each year that tending to my musculoskeletal system is non negotiable if I want to keep this up for many, many more years (which I do.) A daily practice of movement & stretching combined with massaging herbally infused oils into the skin seems to do wonders for the way my body feels - maybe yours too?

I love to apply this balm all over after a shower or bath when my skin is still slightly damp, the moisture on your skin helps the balm to soak in and work its magic. For hands, feet, or anywhere that needs some extra attention.

Poplar Buds (Populus spp.): "The resinous buds of this northern tree are harvested and extracted in oil to make a 'balm' used as a warming rub on the chest and joints, and as a disinfectant on wounds. These resins are also collected by bees to make propolis." - Matthew Wood, The Earthwise Herbal
Goldenrod Flowers (Solidago spp.): A native plant that can be found in great abundance in this reason. Goldenrod infused oil has an anti-inflammatory property that can be soothing to aching muscles.

Ginger Root (Zingiber officinale): Topically, Ginger brings the blood to the surface, encouraging speedy recovery.
Sunflower Seed Oil: We believe in using organic, local, cold pressed oils for the freshest infusions possible. We source our organic oil from the finger lakes region of NY where we live.

Beeswax: A small amount of aromatic beeswax is added to stabilize the balm. This ingredient comes from ethical beekeepers in New York State who are doing work to care for our pollinators and the planet.
SHIPPING INFO

Orders ship out twice a week via USPS. If you need your items sooner, just send us a message in the order notes and we will do our best to accommodate you. Our packaging is biodegradable. From the cardboard box, to the cellulose based packaging tape, to the paper packaging materials.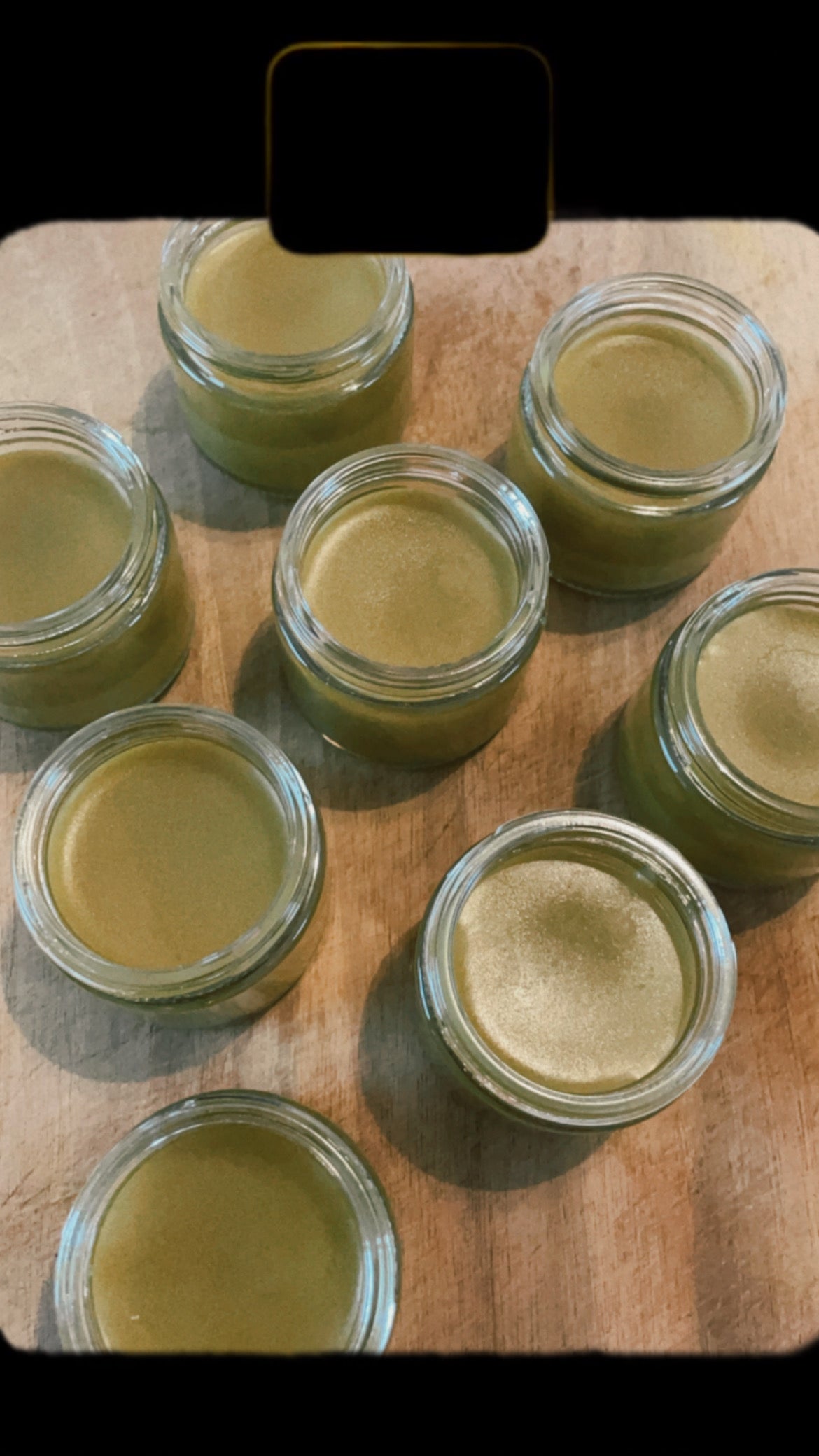 Fresh, locally grown, organic ingredients

Products crafted by a clinical herbalist

Biodegradable packaging materials